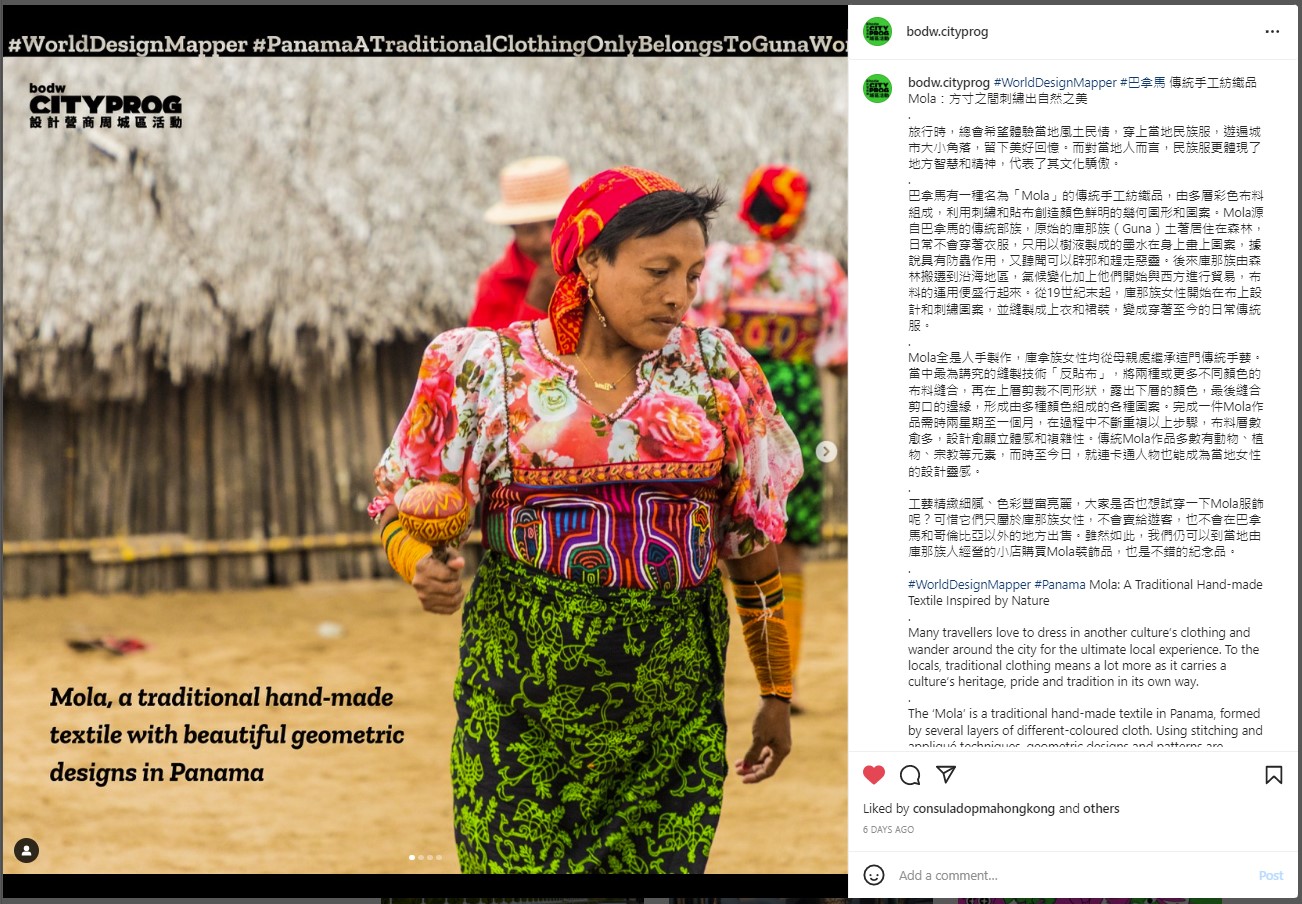 #WorldDesignMapper #巴拿馬 傳統手工紡織品Mola:方寸之間刺繡出自然之美
旅行時,總會希望體驗當地風土民情,穿上當地民族服,遊遍城市大小角落,留下美好回憶。而對當地人而言,民族服更體現了地方智慧和精神,代表了其文化驕傲。
巴拿馬有一種名為「Mola」的傳統手工紡織品,由多層彩色布料組成,利用刺繡和貼布創造顏色鮮明的幾何圖形和圖案。Mola源自巴拿馬的傳統部族,原始的庫那族(Guna)土著居住在森林,日常不會穿著衣服,只用以樹液製成的墨水在身上畫上圖案,據說具有防蟲作用,又聽聞可以辟邪和趕走惡靈。後來庫那族由森林搬遷到沿海地區,氣候變化加上他們開始與西方進行貿易,布料的運用便盛行起來。從19世紀末起,庫那族女性開始在布上設計和刺繡圖案,並縫製成上衣和裙裝,變成穿著至今的日常傳統服。
Mola全是人手製作,庫拿族女性均從母親處繼承這門傳統手藝。當中最為講究的縫製技術「反貼布」,將兩種或更多不同顏色的布料縫合,再在上層剪裁不同形狀,露出下層的顏色,最後縫合剪口的邊緣,形成由多種顏色組成的各種圖案。完成一件Mola作品需時兩星期至一個月,在過程中不斷重複以上步驟,布料層數愈多,設計愈顯立體感和複雜性。傳統Mola作品多數有動物、植物、宗教等元素,而時至今日,就連卡通人物也能成為當地女性的設計靈感。
工藝精緻細膩、色彩豐富亮麗,大家是否也想試穿一下Mola服飾呢?可惜它們只屬於庫那族女性,不會賣給遊客,也不會在巴拿馬和哥倫比亞以外的地方出售。雖然如此,我們仍可以到當地由庫那族人經營的小店購買Mola裝飾品,也是不錯的紀念品。
#WorldDesignMapper #Panama Mola: A Traditional Hand-made Textile Inspired by Nature
Many travellers love to dress in another culture's clothing and wander around the city for the ultimate local experience. To the locals, traditional clothing means a lot more as it carries a culture's heritage, pride and tradition in its own way.
The 'Mola' is a traditional hand-made textile in Panama, formed by several layers of different-coloured cloth. Using stitching and appliqué techniques, geometric designs and patterns are beautifully created. The Mola originated with the indigenous Guna people, with the tradition of painting their bodies with geometric designs using natural colours from trees and plants in the forest. At one time, the Guna people believed that the body painting could protect them from insects and evil spirits. Later, the Guna moved to the coast, and fabrics became popular materials due to climate change and trade relations with the West. Hence, in the late 19th century, the Guna women started to transfer their traditional geometric designs on fabric, and they have worn Mola garments until today.
The Guna women inherit the precious traditional handcraft from their mothers. Using the technique of 'reverse appliqué', two or more layers of coloured cloth are sewn together, and the patterns are formed by cutting away parts of the top layer, revealing the colours beneath in successive layers. The edges of the layers are then sewn down with tiny needles. The process is repeated until the final work is finished, and it usually takes two weeks to a month to complete each work. Traditional Molas usually feature animals, plants and religious elements, as time goes by, some even depict cartoon characters nowadays.
Want to dress up in the beautiful Molas and immerse yourself in the Guna culture? You may be disappointed to learn that Mola garments are not sold to tourists as only Guna women can wear them. But the good news is that Mola decorations are available in stores run by the Gunas in Panama, which might be the best souvenirs you can get!
#BODW #CityProg #設計營商周城區活動 #HKDC #香港設計中心

——————
【𝗕𝗢𝗗𝗪 𝗖𝗶𝘁𝘆𝗣𝗿𝗼𝗴設計營商周城區活動】
𝘍𝘰𝘭𝘭𝘰𝘸 𝘜𝘴
Facebook: facebook.com/bodwcityprogramme
Instagram: instagram.com/bodw.cityprog
Website: bodwcityprog.com
panamaconsulate